Roof and ceiling sandwich panel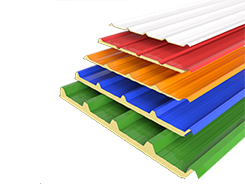 Roof sandwich panel
One of the best replacements for old building materials of the roof is to use roof sandwich panels. Today, roof sandwich panels have become one of the most suitable prefabricated structures for buildings, sheds due to their suitable structure and also the presence of insulation layer in it. There are several benefits to using Arya Baron Toos roof sandwich panels, including the following:
Insulation
Convenient and excellent thickness
High durability
Proper design and appearance
Etc.
Why Arya Baron Toos Sandwich Panels?
Arya Baron Toos brand with years of experience in designing and manufacturing various types of sandwich panels, especially roof sandwich panels, has now become one of the most professional companies in designing and manufacturing this category of products. If we want to examine the ability of Arya Baron in the field of making roof sandwich panels, it will be same as below:
Expert and technical staff
100%
Quality and ability to make different sandwich panels
100%
Exporting Arya Baron Toos products to other countries
99%