Cost savings, sensible noise reduction, high durability, good insulation etc. are only a small part of the features of Arya Baron Toos pre-insulated canals. Give your structure quality, durability and energy savings by using pre-insulated canals. Arya Baron Toos is the leading manufacturer of pre-insulated canals in the country.
Duct is produced and supplied by Arya Baron Company in order to reduce energy consumption in various industrial and construction sectors and using the best technologies in the world. Duct or pre-insulated canal has always been considered by employers, consultants and executors of projects and buildings as a suitable alternative and with much higher efficiency than metal canals or similar products. These canals consist of two outer and inner layers of aluminum and polyurethane foam that has been injected between them. Polyurethane foam is a good insulator against cold and heat and is also stable against fire. This type of duct has significant economic advantages over other types of canals by reducing energy costs, installation, maintenance and is suitable for residential buildings, hospitals, hotels, restaurants, etc.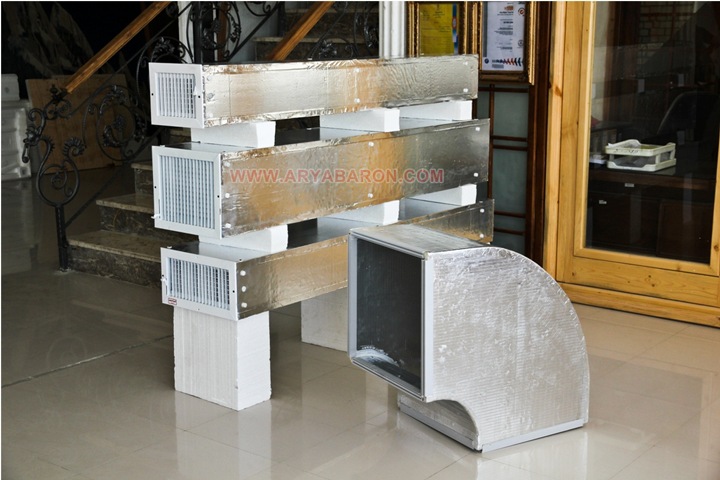 Advantages of using pre-insulated canals
Using Arya Baron pre-insulated canals has several advantages which it can be mentioned as below
Fully air locked and waterproof
High fire resistance
Very lightweight 
High lifetime
Energy consumption reducer
Easy installation and usage
No vibration
Etc. 
The well-known Arya Baron Toos brand, relying on technical knowledge as well as using the current latest technology in the world, could be known as one of the top producer brands of pre-insulated canals. Using Arya Baron Toos pre-insulated canals brings various benefits, in which one of them is reducing energy consumption. 
Utilizing modern European machines, enough experience in producing different types of pre-insulated canals, using technical expert forces, etc. caused Arya Baron Toos pre-insulated canals to be among the first options.