Arya Baron Toos, the manufacturer of modern construction products
Arya Baron Toos co. the Iranian prominent manufacturer in field of producing sandwich panels, refrigerator doors, different kind of conex boxes, restrooms and bathrooms, prefabricated buildings and pre-insulated canals
___Critically comment our problems to receive a gift with regarding and appreciation ___
New construction materials of ariabaron Tos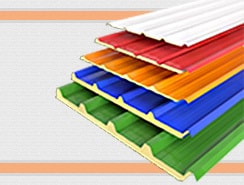 Sandwich panels are one of the best modern building materials replaced with traditional ones. Sandwich panels are separated into two types of wall sandwich panels and ceiling sandwich panels. 
Sandwich panels can be beneficial from many aspects: earthquake resistibility, super heat and cold insulation, fast, cheap and easy installation with portability, etc. If you need an excellent and quality sandwich panel, visit Arya Baron sandwich panels.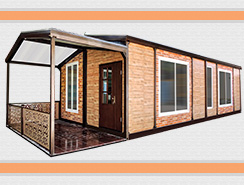 Prefabricated buildings are modern structures with many advantages. High earthquake resistance, installable in any climate, impressively light, reasonable heat and cold insulation, able to be changed in the plan and low maintenance are some of the benefits of Arya Baron Toos. To gain more accurate information about different types of prefabricated buildings, visit our prefabricated building page.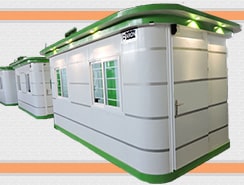 Conex Boxes are produced and designed in various types. Travel conex, mosque conex, security and guard conex, desert kitchen conex, mobile conex, expandable conex, assemble in location conex, w.c. conex, etc. are some of the manufactures of Arya Baron. In order to get more familiar with different kinds of Arya Baron Toos and gaining more information about usage of any of them, refer to the Conex box page. 
Metal slate is a beautiful roof covering that is very resistant and stable due to the bends and arches that are created on it with high pressure in the form of cold pressing or cold rolling.
Aria Baron has used the color and design of traditional and classic roofs in rainy areas in the design and construction of these roofs.
Arya Baron Toos CO. started its modern building in Mashhad/ Iran in a field with 60000 square meters and over 20000 square meters infrastructure with engineering approach while Polyurethane sandwich panel started to be used in modern structures in Europe.  Arya Baron by utilization of the latest technology and advanced European all-automated machines cooperating with professional managers and using the best materials while mixing all of them with years of experience including international standards, currently offers the commodity with CE Euro standards:
Sandwich panels for ceiling, wall and refrigerator, clean room with polyurethane insulation, rock wool and polystyrene
Conex boxes, mobile and restrooms conexes 
Refrigerator, greenhouse, clean room, fire and CNC doors
Polystyrene Pieces (EPS)
Pre-insulated duct (canals)
metal structures
Software for estimating the size of Aria Baron's ceiling and wall sandwich panels
Sandwichpanels have a composite, light and three-layer structure.
This multi-layer structure has many advantages and features and has higher stability than the sum of the stability of its individual layers. Sandwich panels have much less weight than other construction materials and are used quickly and easily in any weather conditions to cover the walls and roofs of all kinds of structures with various applications. Wall sandwich panel and ceiling sandwich panel are the most popular types of panels and new building materials.
Good insulation of cold and heat and saving energy costs
Very low maintenance costs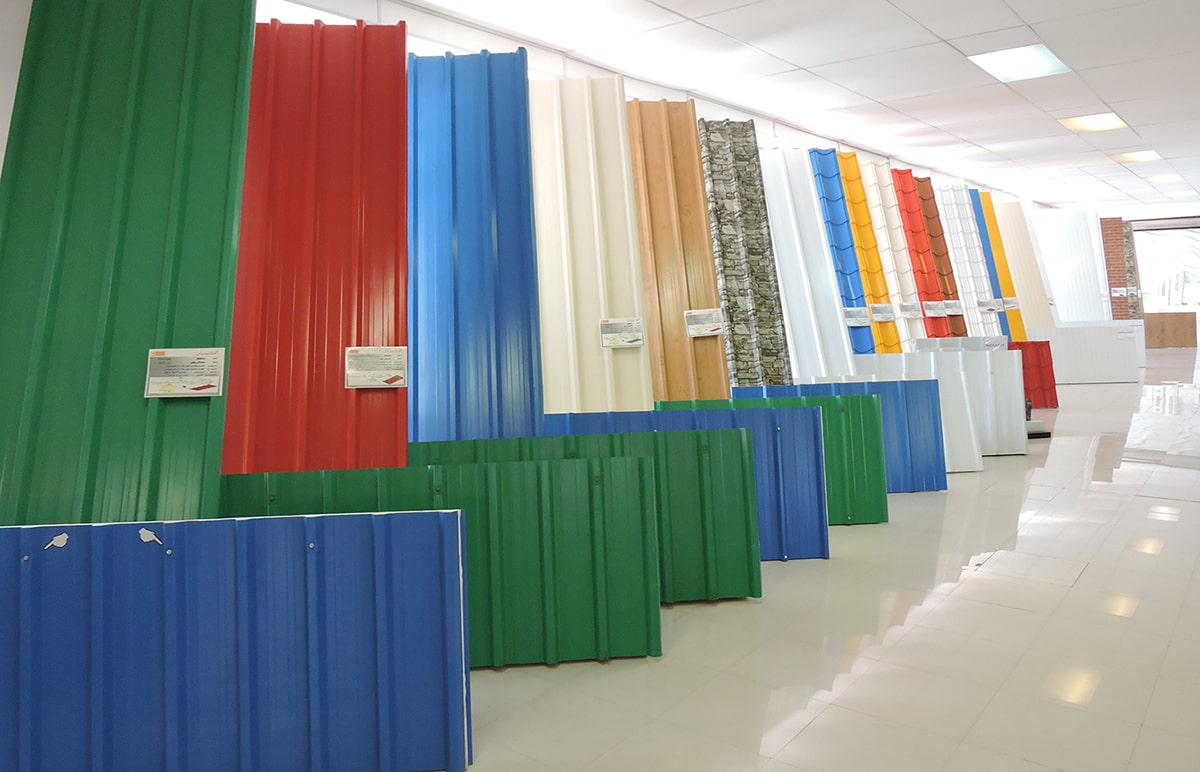 Can be moved to another installation location
Washable and hygienic and very little water absorption
Can be installed on different types of structures
To order Arya Baron Sandwich panels, contact our support team.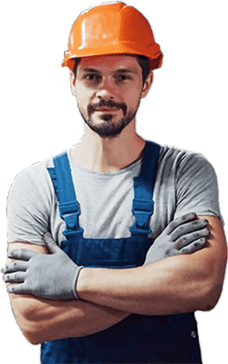 The idea of producing building materials and prefabricated buildings originated in the beginning of the 18th century in Europe but it couldn't be fulfilled before the 19th century. After the 10-year recession of World War II, the industrial flourishing era in northern America and european countries began.The motivation to accelerate construction and turn to prefabricated building components and prefabricated houses was started due to high need of housing. Today, more than 60% of buildings in developed countries are industrially produced, and more than 90% of their residential, commercial buildings use prefabricated building components and dry systems.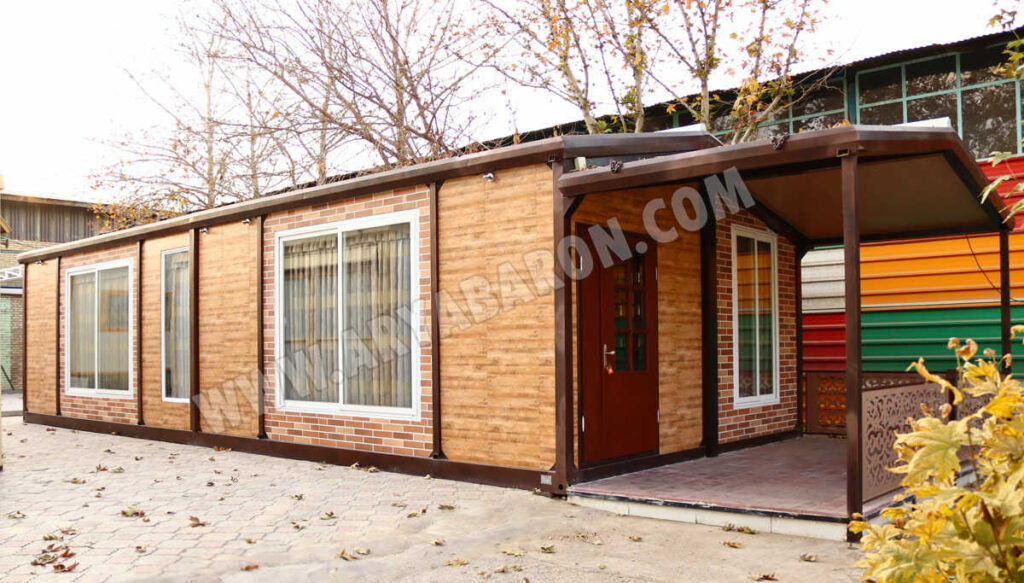 Arya Baron Toos, first designs the best sketch of the structure using the computing and analyzing software and then assemble the sketches into the related software to analyze the structure in different conditions. Hollow structural sections need to be designed in a way that installing the wall and ceiling could be done with enough strength and without thermal bridges. Therefore, appropriate design of the hollow structure sections is effective on stability, lifetime and the beauty of the Conex boxes.
After the structure was designed and analyzed in the related software and the standards requirements were met, the hollow structural sections are formed with C.N.C machines. The quality of the used sheet and also avoiding tension occurrence in different sections of the Hollow structure which highly depends on the forming frames and the machines, would directly affect the lifetime and stability of the structure.
Formed hollow structure sections of Arya Baron are according to plan of the structure used the modern CO2 welding machines which are, in spite of elder welding machines, infrangible. The quality of welding that relies on the welding machine, preparing the welding area and the welding skills would also have a high impact on the lifetime and stability of the structure.
Coloring the structure will have an impact on the beauty, stability, staining and the decay of the structure. Here at Arya Baron Toos, in order to reach a high quality in painting color, first the whole surface of the structure skeleton is sandblasted properly and then with using the quality powder colors, plus automatic color nozzles are sprayed with desired thickness and baked at a suitable temperature in the paint ovens with precise temperature control.
Sheds and cold rooms are structures that have a wide range of uses. Aria Baron Tos factory has tried to design and produce all kinds of sheds, cold storage and new construction materials with high quality by using the latest technologies. As you know, cold storage is a structure that is used to maintain the required temperature; To prevent the corruption of all kinds of medicines, vegetables, fruits, food, etc.Without cold storage, there will be no environment to store all kinds of medicines and food, as a result, the economy, people's livelihood, health and life will be in serious danger. Sheds are also metal structures that have different types and applications according to the map, area and material used in them. Industrial sheds, sports sheds, workshop sheds, etc. It is considered one of the types of Aria Barun sheds.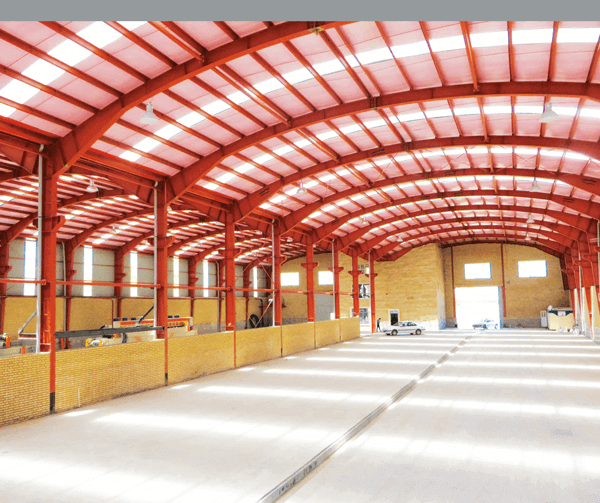 Pre-insulated ducts (canals)
This product is produced and offered in order to reduce the energy consumption in various industrial and construction sectors using the best technologies in the world by Arya Baron CO. Pre-insulated duct or canal is a suitable replacement of metal or similar canals with higher efficiency and has always been considered by employers, consultants and executors of projects and buildings. These canals are made of two inner and outer layers of aluminum and polyurethane foam which is injected in the middle of them. Polyurethane foam is a good insulator against cold and heat and is also stable against fire. This type of duct has significant economic advantages over other types of canals by reducing energy costs, installation and maintenance, and is suitable for residential buildings, hospitals, hotels, restaurants, etc.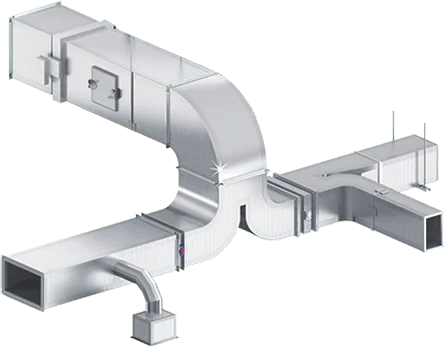 Aria Baron and new building materials
Why Arya Baron Toos?
Arya Baron is currently one of the top country brands in the field of designing, constructing and producing sandwich panels, prefabricated buildings, refrigerator doors, etc. This brand has been able to produce products with international standards in Iran and send them to neighboring countries by using specialized technical force as well as using technology and fully automatic production lines. 
Best prefabricated buildings producer co.
Arya Baron Toos brand with years of activity in the field of design and construction of prefabricated buildings is currently one of the main and top brands producing all kinds of prefabricated buildings in Iran. The excellent quality of the brand's products has made Arya Baron Toos prefabricated buildings able to compete with foreign products. At present, Arya Baron Toos products are sent to all neighboring countries of Iran.
The prominent Sandwich panel producer of the Country
As Arya Baron Toos co. uses the latest technology of the world beside the expert staff, produces sandwich panels with the highest quality in Iran. This has led Arya Baron Toos brand as the top exporter and manufacturer in the field of sandwich panels for several years.
Articles and news about sandwich panels, condos, prefabricated buildings, etc. in Aria Baron Toos magazine.
Certificates received by Aria Baron Tos as the best producer of new construction materials